I've been cloth diapering consistently for a while now, but of course I have been awful at posting.
I have done lots of ordering, but the second set I received was this: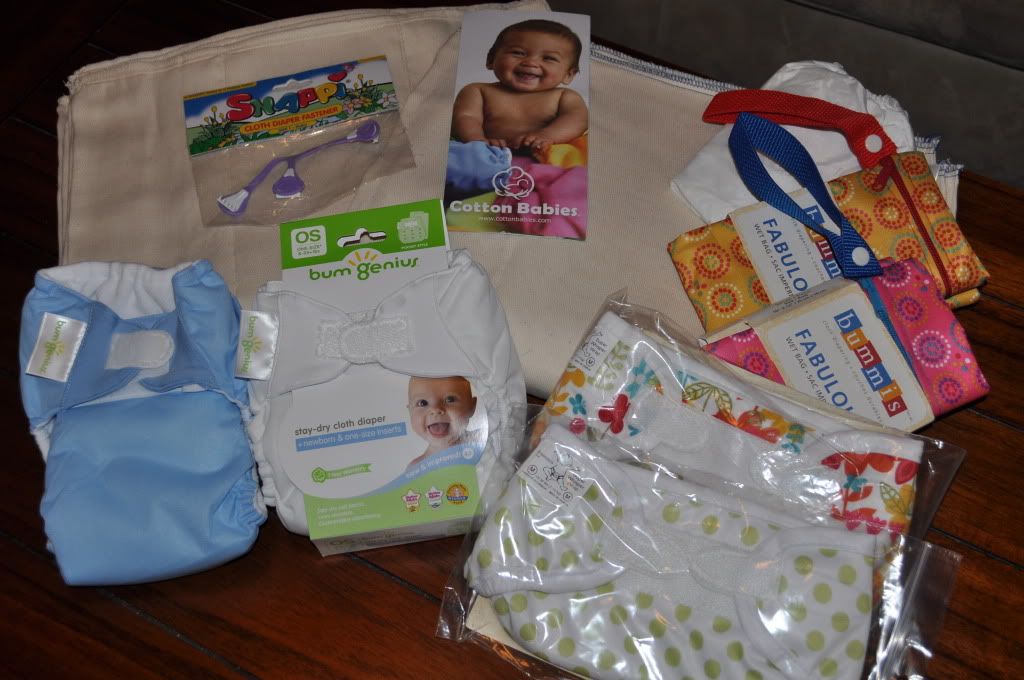 So here's the scoop:
The traditional chinese/indian prefolds are just way to big for her. And I did get a size Medium in the Bummis Whisper Wraps to go over the prefolds and those are huge on her, as well. So she won't be wearing those until she is toddling around.
However, I wonder if I was too impulsive in ordering those and may need to try and sell them (as I have not used them) because I LOVE BumGenius. I have both the 3.0 One size and the All In One (AIO). The AIOs are a much closer fit and don't give Lydia quite as much junk in the trunk. Which I prefer because while I don't mind a chubby baby, her big bum was becoming topic of conversation & I didn't like that. So she wears a size small AIO for when we go out and she wears tighter outfits etc. Also for comfort because otherwise her little pants are too tight on the diapers & she doesn't like it. (I know because she'll sigh with relief when I take the pants off. hahaha) So I don't do that to her anymore. With her little round belly we really like one-piece outfits. :)
BumGenius has 4.0 & I don't know the difference between that and the 3.0. I buy the 3.0s on clearance at cottonbabies.com. These are the "less than perfect" ones. Supposedly some stitching or something is done wrong and isn't up to par with their full price selling ones. But I can't find what is wrong with them and I like saving the $4 on each diaper.
The one-size diapers like the Flips I have and the 3.0 Bumgenius should be able to fit her until potty training. If not, I do have the prefolds, but I'm going to have to wait and see if I will even hold on those. I'm a little disappointed with my impulsiveness to not get a smaller order and see if I liked them first. But of course my impulsiveness co$t me again. cest la vie. I will sell them if I don't end up liking them.
I'm using Planet detergent and since it really doesn't take much detergent one box has been lasting me this whole time.
I am really satisfied with the wet bags and diaper liners I got. I have the Bumgenius diaper pail liner & while it may sweat a little bit I don't really notice it. It fits perfectly my 13 gallon square trashcan. I have the bummis wet bags-a small one and a large one-I use the large one on longer trips and up in her room because i don't want a whole diaper pail upstairs when I do most of her diaper changing downstairs on the pack-and-play changer and my diaper pail is there. The keep odor and moisture in and a bonus is they are pretty cute. :)
Overall, I have LOVED cloth diapering. For some reason it is just really self-satisfying. I know that sounds strange, and who would think I would actually ENJOY it, but I do. I know it isn't for everybody and sometimes I feel a little shy letting people know I do use cloth, but it has been perfect for us. And the best part is that while this has been a big up front cost I won't be buying these for other babies. I will already have my stash built up. Of course I may need a few newborn ones for once the plug falls off my next babies tummy because I want to start sooner next time.
If you're thinking about going cloth I say give it a whirl. However, like I said, it isn't for everybody and that is totally fine.