On March 31 we loaded up the car and our sweet little family and drove down to LA. We stopped in Burbank & checked into our hotel, Lee went and grabbed us a healthy lunch from Denny's because it was pretty much attached to the hotel and we were tired of being in the car, then Lee & Lydia took a nap while I played monopoly on the iPad. We got ready and then we hit the road to the Dodger Game!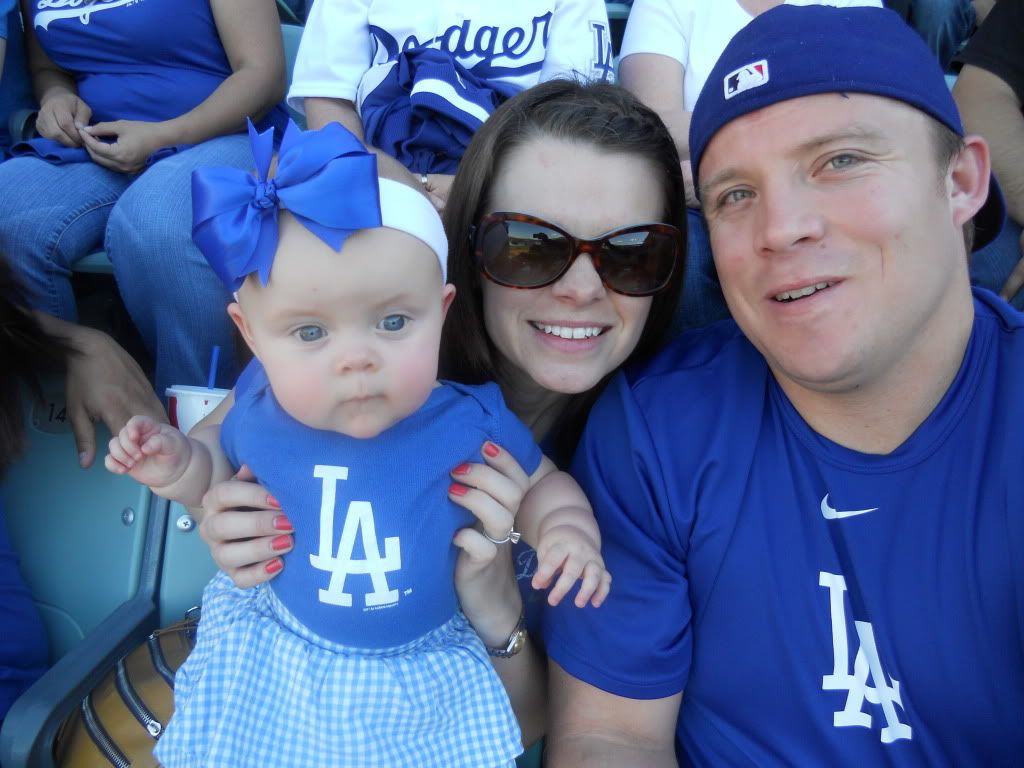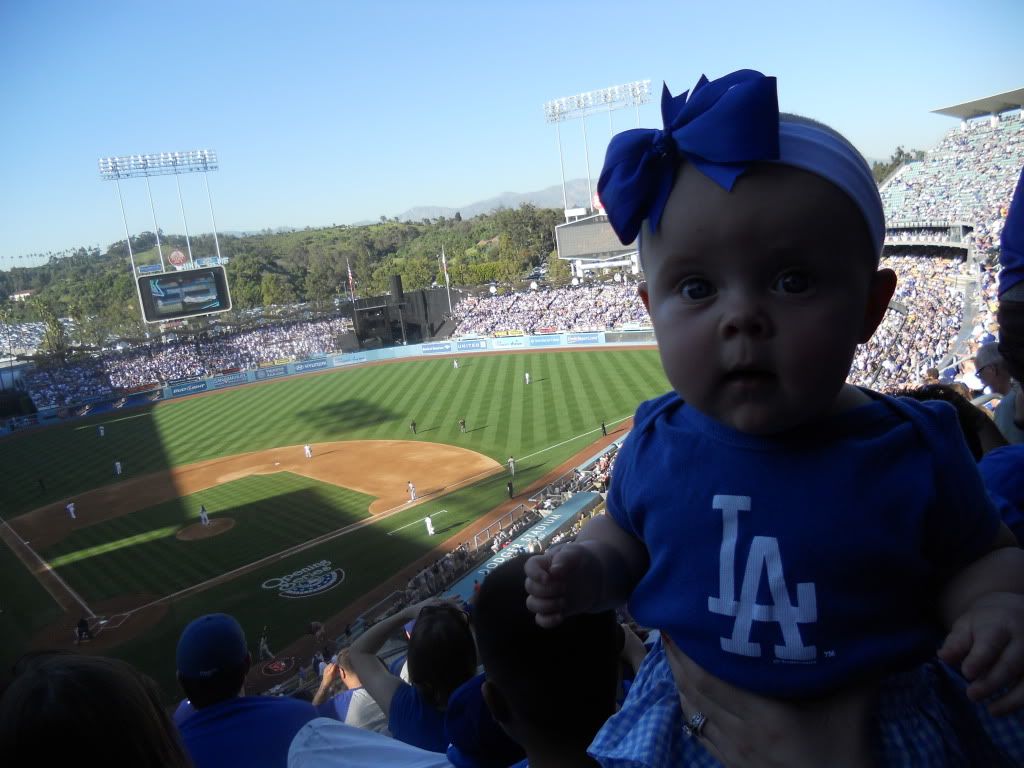 Lydia could not have looked more darling and we could not have had better seats. It was 95 degrees in LA so we were thankful for seats in the shade. We had such a good time together and I loved the view we had. I actually really enjoy watching baseball so that is a plus. And of course I got to watch it with my wonderful husband and beautiful daughter so it was a great time. The Dodgers won! Another plus. Then we went back to the hotel, dad went and grabbed another healthy (late) dinner because mom was being frugile and didn't want to buy dinner at the stadium for herself. We dined on pepsi and a little ceaser's pizza and then rested up for the next big adventure of our mini vacation....
Oh yes, the wonderful WORLD of Ikea. . . and I do mean World. Lee had never been so I was very excited to show him around. It was actually my first time eating at IKEA, because when I went to APU I was just down the road from one so I never had to spend a whole day there.
Lydia Jane did so well on our vacation and very well in IKEA. She had her moments, but once she fell asleep in her stroller and got a little rest she was back on track. Isn't she so cute holding her sippy cup? She is just such a doll. I am going to do a whole different post on all of our great purchases!! But after getting everything we did, and a few items for some friends we almost didn't fit everything in the car. It took lots of sweat and patience to load, unload, change it up, reload, and I even had to move the carseat over to the side instead of the middle, before we had everything in. Sweet Lydia Jane almost didn't fit and Lee & I had to ride with some cardboard boxes (holding some cabinet doors) between our heads.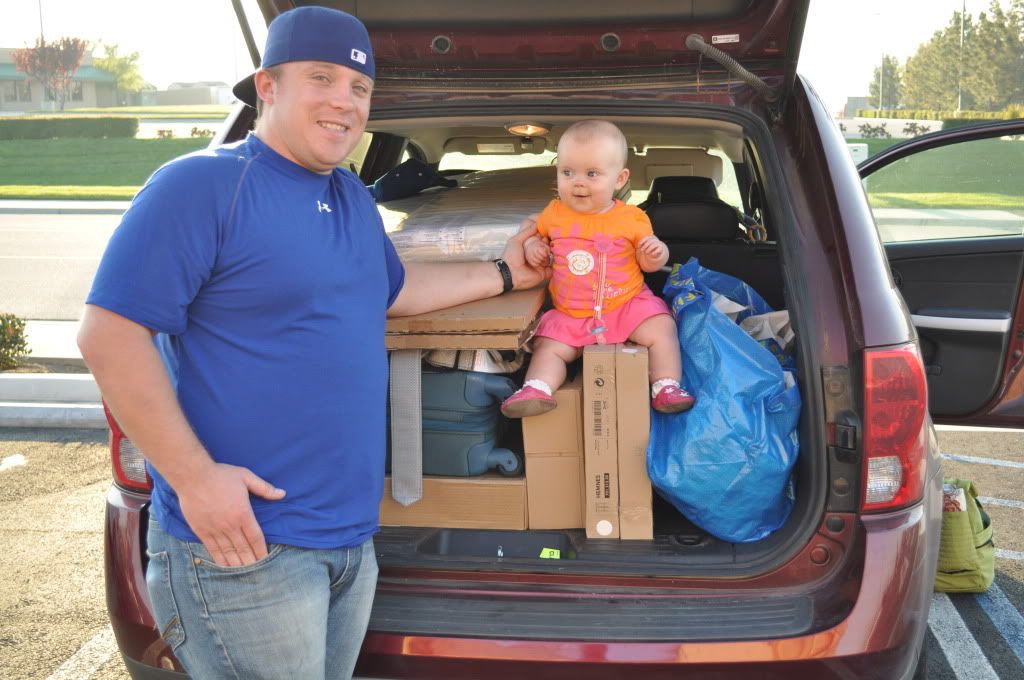 But we did make it home and I cannot wait to show you what we got!! Soon I promise! We got back to Reedley on a Friday evening. We caught up on a couple of our favorite shows and then Saturday morning Lee had to be at Camacho Park to pray for the Little League games and then jump over to the softball fields by the high school to pray for those games. (he's so holy) :) When he got home we finished getting things together yet again so we could hit the road and head up the mountain. I had the awesome opportunity to speak two times at the high school girls' retreat. These are the girls: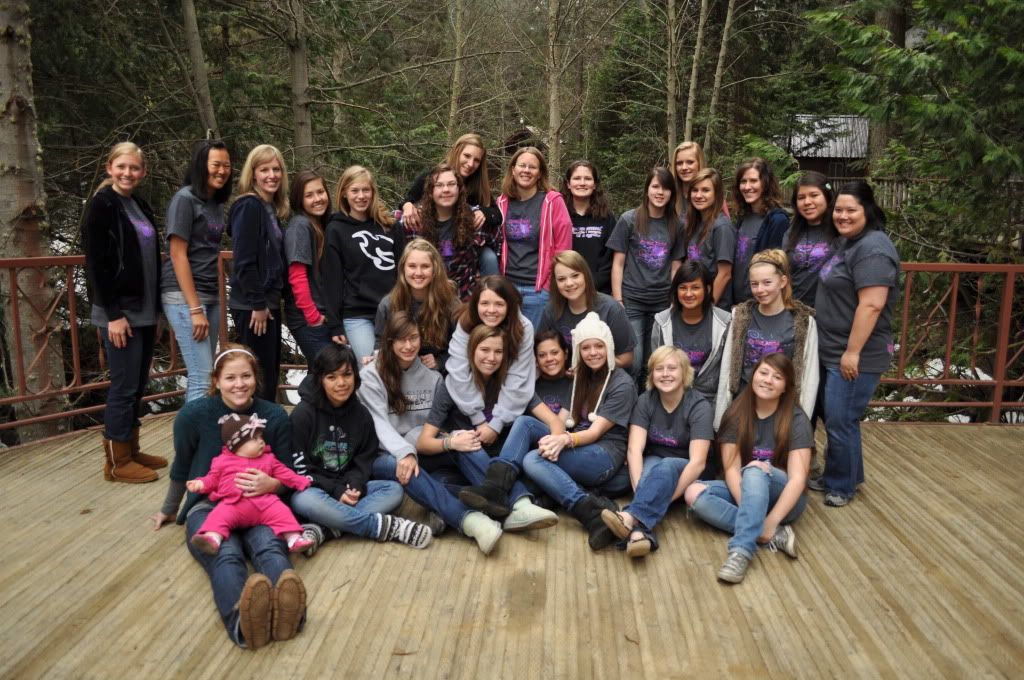 Such a great group and awesome leaders. It really was an honor to be invited to be a part of their trip & it was such a blessing to me. I really enjoyed being able to share and be used. It was very refreshing to do something I used to get to do all of the time and LOVED doing when I was in college. I know a lot of people hate it, but I love public speaking. I realize sharing this runs the risk of sounding vain, because why would someone love public speaking unless they just loved the spotlight? Well, I am not sure how to explain it without running the risk of sounding full of myself. Nonetheless. . . attempt I shall. I am not good at a ton of awesome things and that is okay with me, but one thing I feel blessed to be able to do is to compose my thoughts into written and spoken word. So when I get the opportunity for God to prove His awesomeness to me once again by empowering me and using me to speak eloquently and powerfully, I just think it is incredible. It isn't me. It is totally Him. And every time He does it I feel alive, changed, renewed, valued. God is so good. I am so unworthy. Yet, I get to be a tool in His hands. There isn't anything better in or out of this world.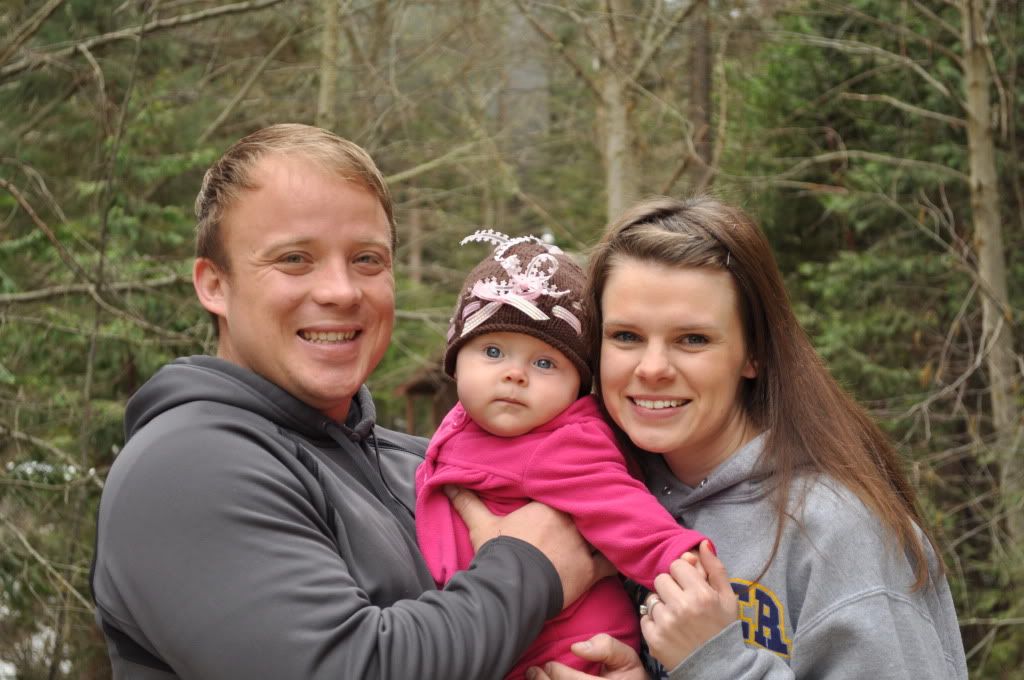 It was also just SO good for Lee & I to step away from things a little bit & for Lee to get to spend some really good time with Lydia. I loved how much quality time they got together & I think they got to know each other a little bit better through it all. Not that they do not know each other of course, but I am the fortunate one who gets to spend every day with her while he earns money to support us. So it was just good time for them to spend one-on-one without mom around while I was with the girls. Also, for a little history, Lee was at Hartland Summer Camp when I went into Labor 5 weeks early. For details on that you can read our birth story. So, being back at Hartland was special to Lee, and we made it a priority to see Bob. Bob is the director at Hartland and He is the amazing man who went and found Lee to tell him he was having a baby. To which Lee responded, "yeah I know." (as in, yes in a month we are having a baby). And Bob said "No, you're having a baby right now! She is at a 9!" Bob then proceeded to drive Lee down the mountain himself at a record breaking pace. Lee even asked to stop once to throw up. :) Lee made it just in time. I mean JUST in time... like 15 minutes before she was in our arms! Bob then went and let our dogs out of the house and fed them, and got our carseat in the car for us and brought the car to the hospital. What a good man! So this called for a formal meeting and a photo!
This was our last stop before hitting the road home to complete our mini vacation(S) weekend. You know, normally I would hate the thought of all that driving, but the whole trip was actuallly REALLY awesome. It was also really neat to go on my first family vacation where I am the mom. So surreal and so amazing. I love my little family. Thank you God for blessing me so much!